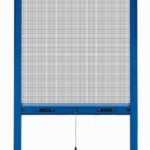 Vertical Movement
The vertical system complies with the requirements of legislation CE. It is suitable for windows, manually operated, consists of high quality fiberglass screen and restore is done by spring. The special designed anti-wind guides with special brush provide a great wind resist in areas with high winds, further enhancing its resilience.
Also the system comes with special brake system that adjust in at the spring.
Available colors in Stock: RAL 9010 (white), RAL 8014 (brown), GOLDENOAK and NUSSBAUM.
Other colors available upon request.